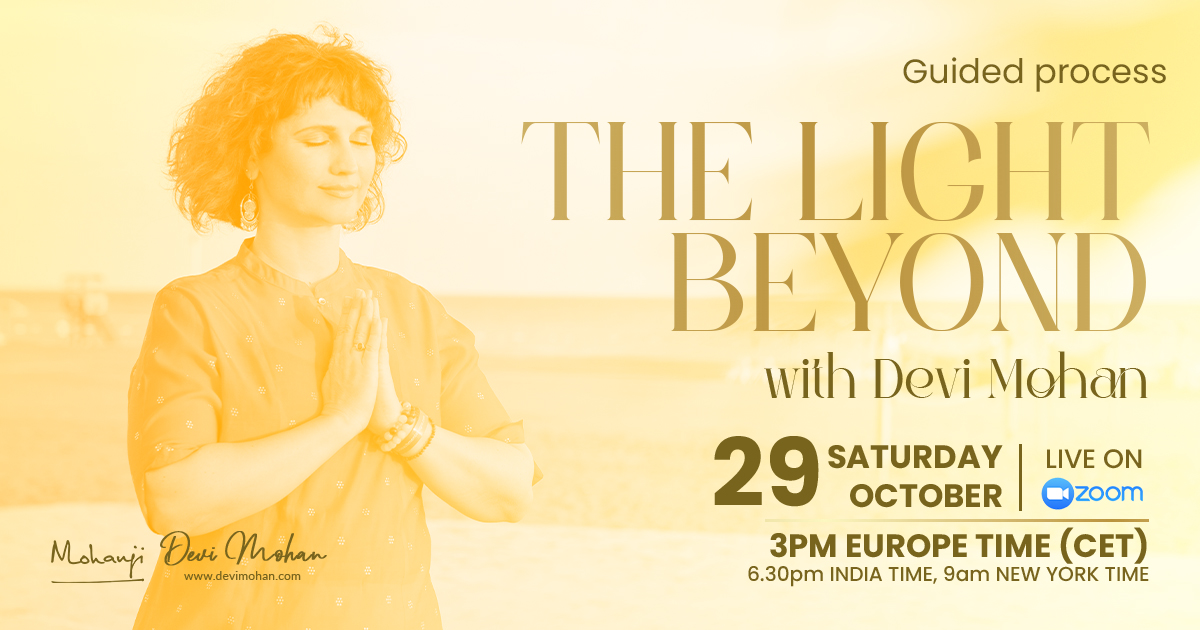 THE LIGHT BEYOND process (via Zoom)
After a break of 4 months, Devi looks forward to sharing with you the intense energy and beauty of The Light Beyond process.
During this online process, we unite in a powerful way through group energy and work effectively not only on our own alignment, but also make a powerful, much-needed contribution to the collective consciousness and Mother Earth.
Activate your heart and pineal gland, cleanse your central axis and become the instrument of purest love beamed all the way to the heart of Mother Earth.
.
SATURDAY , 29.10.2022
at 3 pm CET
6.30pm IST
9 am EDT
.
LIVE with DEVI MOHAN (via Zoom) .During this process, you will be guided into a powerful heart activation, so that you can effectively tap into the transformative power of love. This process is designed to support our ability to tackle the challenges of the present time with positivity, harnessing the power of love.
Become an instrument of awakening on Earth instead of simply reacting to the events of life, overwhelmed by the constant fear-based information.
Discover and activate your innate ability to transform physical reality through love. Based on her own life-saving past experience of instant heart activation, Devi conveys this knowledge in a powerful, authentic way
Learn how to sharpen your inner antenna to become receptive to the information from the higher vibratory planes – by effectively working on activating your pineal gland through simple methods.
Join Devi Mohan in reimagining a new world, embracing the vibratory frequency and physical reality of the Golden Age.
The Light Beyond process is crowned by the anthem of the World Consciousness Alliance, the song 'Reimagine.' After experiencing the heart activation, this majestic song truly comes to life in its full potential, as the beautiful lyrics written by Mohanji become alive in your inner space.
PROGRAM (CET):
3 – 3.30 pm (CET) – Introduction and explanation of pineal gland activation methods
3.30 – 4.30 pm – The Light Beyond: Live by Devi Mohan
4.30 – 5 pm – Experience sharing, Q & A
PREPARATION FOR THE PROCESS:
→ In this short video, Devi Mohan explains in brief what The Light Beyond process is all about, its relevance and its uniqueness. The link: INTRO about The Light Beyond by Devi
This process is done in a comfortable seated position.
During this process, you will be learning several profound methods for activation of the pineal gland and vertical alignment.
Due to some of the methods used during this process, it is preferred to join with a half-empty stomach (no heavy meal 2h before the process).
HOW TO JOIN THE ZOOM SESSION:
To book your slot and get the Zoom link please:
Process the payment of 25 euro via PayPal using the following link: www.paypal.me/DeviMohan/
Email Devi's team on devi@mohanji.org to CONFIRM that payment has been processed and to GET the Zoom link on time.
→ The registration is closing on 29.10. at 12 pm CET/ 3 pm IST/ 7 am EDT
→ Please check your Spam folder if you did not receive a reply within 1 day.
You may also request an alternative payment option if PayPal is not possible for you- please email Devi's team at devi@mohanji.org
ADDITIONAL INSTRUCTIONS
* Golden light carries a special code that our heart recognizes at a deeper level. This is especially so since the year 2012 when our Sun started emitting the powerful rays of the Great Central Sun. This frequency is instrumental in bringing about 'The Shift' on our planet – essentially, this is a Shift from fear and greed, into Unconditional Love and it affects all areas of life.
All are welcome!
* In case you miss the LIVE version of The Light Beyond, you can opt for a recorded one, available on this page