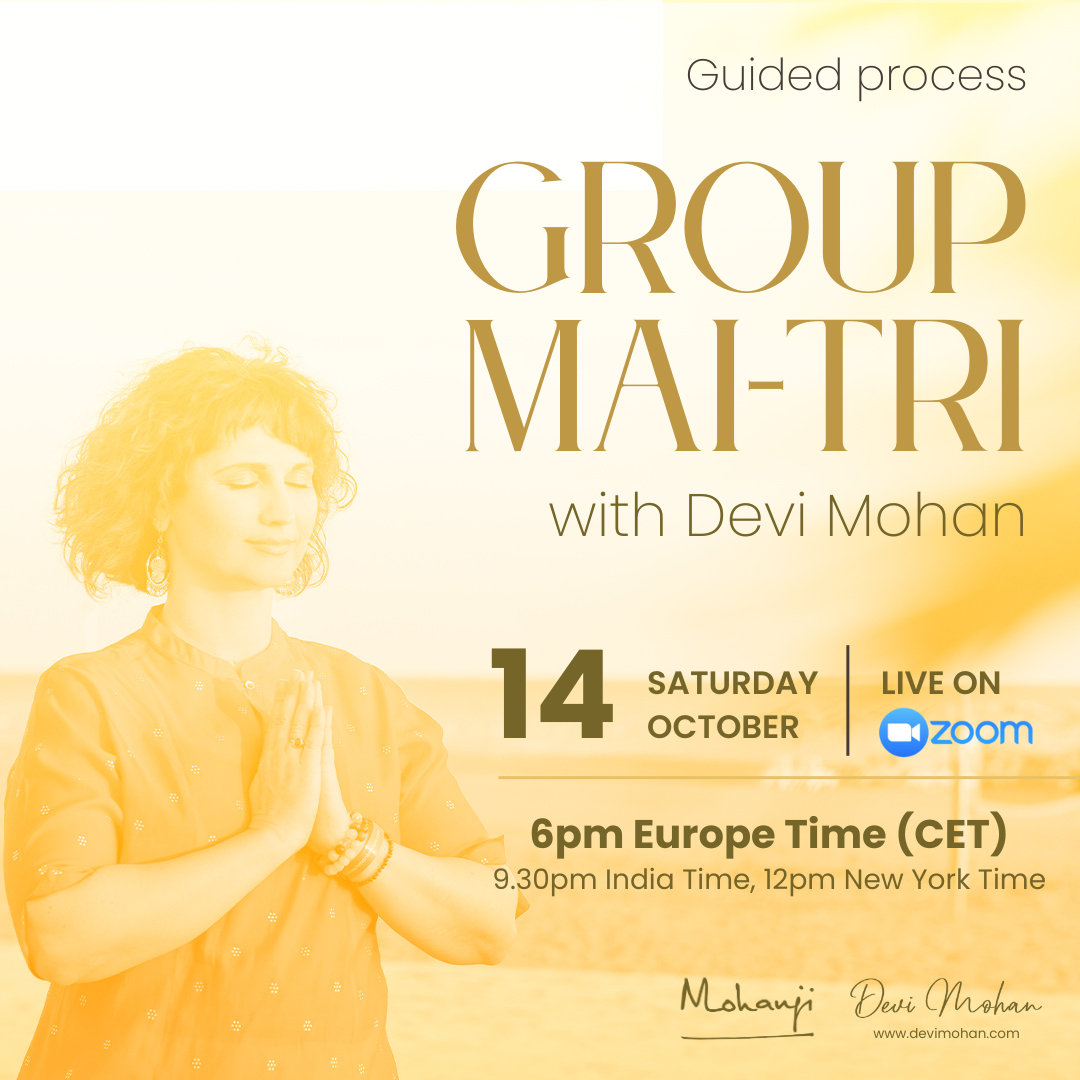 Group Mai-Tri session (via Zoom)
Welcome to this beautiful, deep process of inner cleansing and balancing, a rare opportunity to experience the full intensity of blessings from Mohanji through the Mai-Tri Method within a group energy dynamic. SATURDAY, October 14 at 6pm (CET)
9.30pm India Time, 12pm New York Time
.
LIVE with DEVI MOHAN via Zoom
MORE ABOUT GROUP MAI-TRI
.
For those of you who may be joining us for the first time, Mai-Tri Method is a profound method of deep cleansing and harmonizing in which deep-seated subconscious blockages are removed, even from the subtlest layer of our existence – the causal body – where seeds of karmic impressions are stored. While the cleansing reaches deep into the energy records, it is important to note that Mai-Tri Method does not interfere with the destiny aspect of karma(as this is what has been chosen at the soul level, be it pleasant or unpleasant to our mind).
.
→ Devi's special announcement of this event:
"Pitru Paksha is that special time of the year when the veil between the astral plane realm of the ancestors and our physical reality is the thinnest. Pitru Paksha period ends on Saturday, October 14th and this year that day coincides with the solar eclipse as well.
Due to some powerful synchronicities that have been happening in my life last couple of days, I felt the calling to conduct a Group Mai-Tri session with the focus on the ancestral karma. 
I look forward to open up to the mighty inner guidance in connection with Mohanji's consciousness and the powerful tradition of Masters, the Presence that automatically dispels all darkness… Here's to our cleansing, elevation and liberation from all the forces of gravitational nature.
I welcome you into the group energy with all my heart!"
To find out more about Mai-Tri Method, please visit this link⬅︎
PROGRAM FLOW (CET)
.
6 – 6.15 pm CET – Introduction
6.15 – 7.45 pm – Group Mai-Tri session
7.45 – 8pm – Experience sharing and additional clarifications
 HOW TO JOIN THE ZOOM SESSION
.
To book your slot and get the Zoom link please:
1. Process the payment of 35 euro via PayPal using the following link:  www.paypal.me/DeviMohan/ 
2. Email Devi's team on devi@mohanji.org   to CONFIRM the payment was made and GET  the Zoom link.
→ Please check your Spam folder if you did not receive a reply within 1 day.
→ The registration is closing on Saturday (October 14) at 2pm (CET). TESTIMONIALS
Here is a beautiful sharing by Martina Tišljar (Angel Whisperer)  Croatia who joined the last Group Mai-Tri session in the Serbo-Croatian language in March 2021 –
"I don't follow social media much, but it has been my experience that any important information reaches me when needed. The same was the case with Devi's announcement of Group Mai-Tri.
I don't think much when it comes to attending Devi's processes – I applied right away, even though I was booked to attend a symposium that day. I simply decided to miss one part of it.
That process was so powerful that I find it difficult to describe it in words, but I would like to do my best to convey it. I have experienced many processes with Devi thus far, but this one was so powerful that a part of me got stunned by the force that simply overtook my body. At some point my body was shaking from the intensity of that force and the tears of gratitude kept pouring as if they will never stop. I knew exactly what I was releasing.
Images and emotions from my very first arrival to planet Earth, and all other lives that followed, connected into one wholesome unit. I became aware that I am releasing the greatest pain from all the pains and burdens that I have been carrying till date. That inner knowing was crystal clear. Transformation was momentary. After that moment, I knew I was no longer the same person that I was an hour ago. I felt completely different. The clarity and determination that has been my greatest strength all my life got reawakened. Ever since I was a child, selfless service was the only thing that mattered to me. Now I know that I am more ready than ever before to give more from the purest part of my being. The part of me that is one in Love with God since ever.
The words 'Thank you' are so small, but nevertheless beautiful. Sincere thank you to our dear, gentle, powerful Devi who is a beautiful blessing to this world. And I feel this blessing is growing day after day. I am already looking forward to any future session or time together."
ALL ARE WELCOME!
.
SATURDAY, October 14 at 6pm (CET)
9.30pm India Time, 12pm New York Time
LIVE with DEVI MOHAN via Zoom