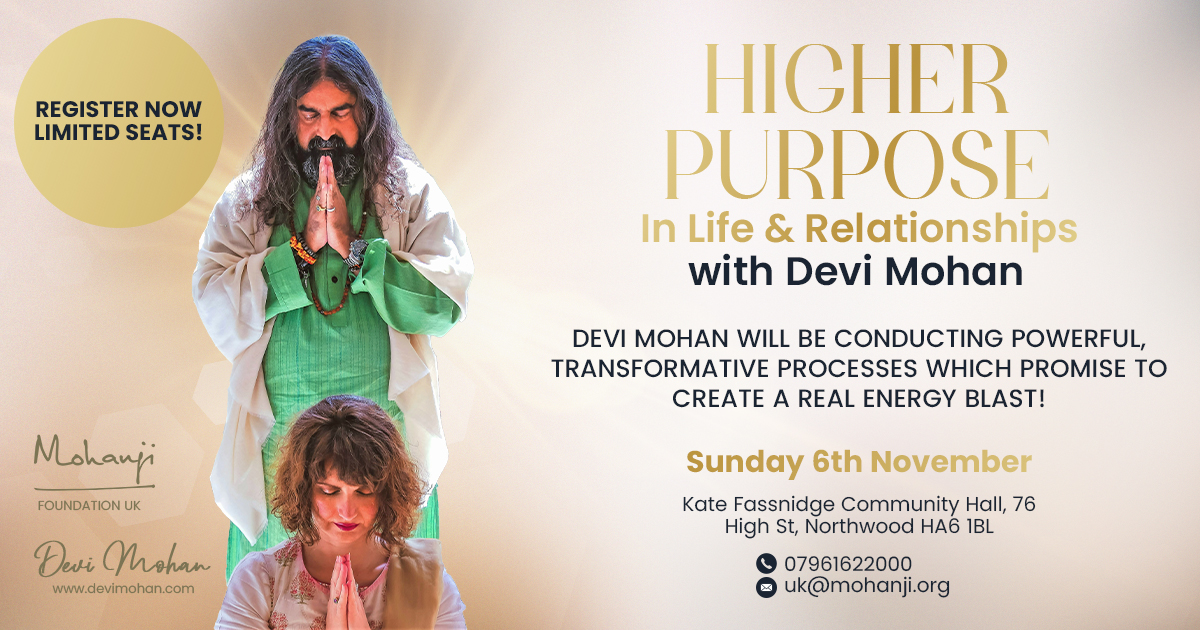 Workshop in London
Higher Purpose – In Life & Relationship
.
Devi Mohan will be conducting powerful, transformative processes which promise to create a real energy blast!
.
Date: Sunday 6th November 2022
Time: 10 AM – 5 PM GMT
Location: Kate Fassnidge Community Hall, 76 High St, Northwood HA6 1BL
.
Devi will start the program by introducing the work of Mohanji Foundation. The topic will be a higher purpose in life and relationships – how to recognise it, how to attain it and why. This will be followed by Conscious Dancing, Satsang and The Light Beyond process.
Vegan snacks and lunch are included.
.
.
.
Conscious Dancing is a highly effective meditation through a free, unstructured dance. As a powerful technique of balancing the chakras and effectively energising your central axis, Conscious Dancing awakens the vertical dimension of being while you dance fully focused within.
The result is pure bliss and lightness that lasts for hours after Conscious Dancing. This direct experience is the proof that we don't require any external substances to attain bliss, which truly comes from within.
Conscious Dancing is also thrilling, deeply touching, and lots of fun. Not to be missed!
.
.
Conscious Dancing will be followed by vegan lunch and an opportunity to discuss. Post lunch Devi will take us through a beautiful process called The Light Beyond.
.
.
.
During this process, you will be guided into a powerful heart and pineal gland activation, with the aim of effectively tapping into the transformative power of love and becoming an instrument of awakening on Earth.
Join Devi to discover and activate your innate ability to transform physical reality through love. Based on her own life-saving past experience of instant heart activation, Devi conveys this knowledge in a powerful, authentic way.
Learn how to sharpen your inner antenna to become receptive to the information from the higher vibratory planes – by effectively working on activating your pineal gland through simple methods.
.
.
To book your place please visit:
ALL ARE WELCOME!
Feel free to invite your friends and family to enjoy together in an absolute energy blast!