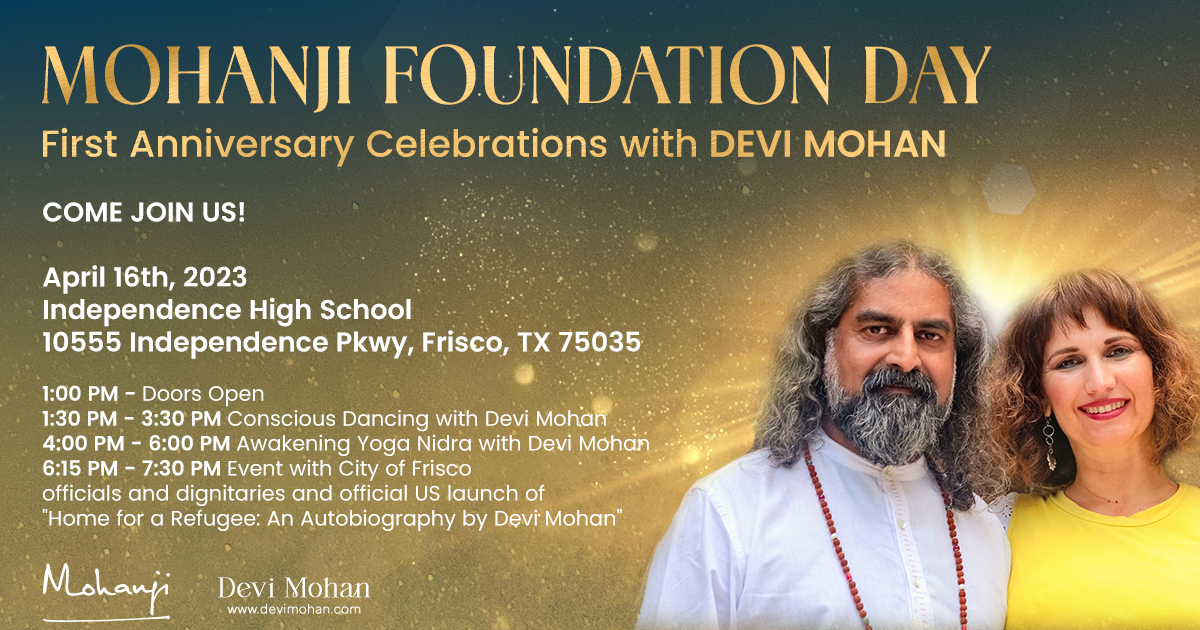 US tour – FRISCO (Texas), 16 April
April 16th promises to be a memorable and truly special day in Frisco, Texas!
You are welcome to join Devi for the official celebration of the Mohanji Foundation Day, the US launch of her autobiography "Home For a Refugee" and two powerful processes:
Conscious Dancing– an effective, meditative, and joyous cleansing process based on unstructured dance to unblock and balance the chakras.
Awakening Yoga Nidra– a deeply relaxing and rejuvenating guided process, that takes the practitioner into Alpha State of single-pointed awareness, self-connection, and deep release.
. Program Flow:
.
1 pm: Doors open
1.30 pm – 3.30 pm: Conscious Dancing
4 pm – 6 pm: Awakening Yoga Nidra
6.15 pm – 7.30 pm: Event with City of Fresco officials & 
Devi's "HOME for a Refugee" book launch .
Register to participate in Conscious Dancing, Devi's Book Launch or Awakening Yoga Nidra
.
Click on the link below for registration.
.
Short Bio:
.
Devi Mohan serves as the Global Ambassador for Mohanji Foundation, Global President of ACT Foundation, an internationally active charity, and Director & Senior Faculty (E-RYT 200) of the Himalayan School of Traditional Yoga (HSTY).
Devi Mohan is a multifaceted humanitarian and a role model for many women. She has been an integral member of the Mohanji Foundation, the international spiritual mission of her husband and spiritual guide Mohanji, since its formation in 2007.
Devi represents the Foundation as its Global Ambassador at various international events, initiatives, and forums: from interfaith dialogue and world peace-related forums such as the Parliament of World's Religions, Living Peace Projects and Unity Earth, to non-violence and women empowerment-related events and initiatives such as Vegan India Conference, Women Emerging and Festival of Womanhood. Through her inspirational talks, she aims to touch people's hearts and serve the cause of peace and women's empowerment through the active expression of love and expansion of consciousness.
Her book, "HOME for a Refugee" is ,  newly released. It is Devi's intimate and rousing account of her hearts journey Home to divine union with her beloved Guru and husband, Mohanji.
. ALL ARE WELCOME
.
Click on the link below for registration.