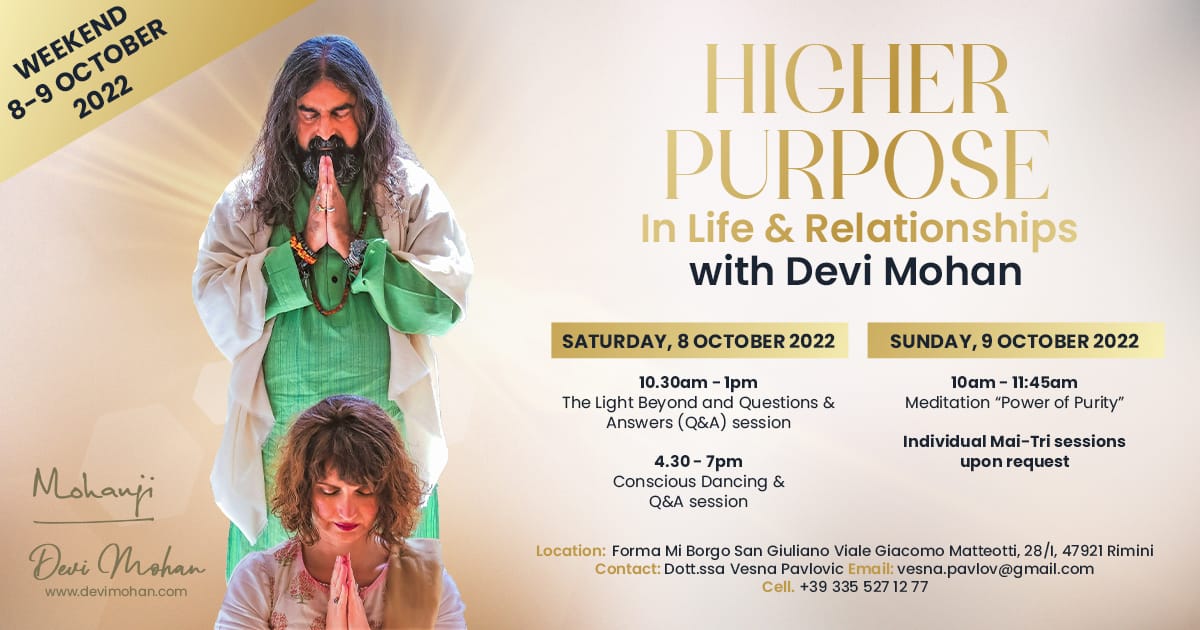 Weekend program in Italy with Devi
.
For the first time in Italy – on the weekend of 8 -9 October, 2022 Devi Mohan will be conducting powerful, transformative processes which promise to create a real energy blast!
All are welcome.
On Saturday, 8 October
Devi will start the program by introducing the work of Mohanji Foundation, followed by a heartfelt sharing of her innermost insights based on real life experience. The topic will be higher purpose in life and relationships – how to recognize it, how to attain it and why.
This weekend journey with Devi will start with a stunning process called –
.
The Light Beyond
.
During this process, you will be guided into a powerful heart and pineal gland activation, with the aim of  effectively tapping into the transformative power of love and becoming an instrument of awakening on Earth.
Join Devi to discover and activate your innate ability to transform physical reality through love. Based on her own life-saving past experience of instant heart activation, Devi conveys this knowledge in a powerful, authentic way.
Learn how to sharpen your inner antenna to become receptive to the information from the higher vibratory planes – by effectively working on activating your pineal gland through simple methods.
At 1pm, participants will be welcome to join Devi for a sumptuos vegan lunch in a nearby restaurant, or make alternate arrangements.
Program continues at 4.30pm with:
Conscious Dancing
.
Conscious Dancing is a highly effective meditation through a free, unstructured dance. As a powerful technique of balancing the chakras and effectively energizing your central axis, Conscious Dancing awakens the vertical dimension of being while you dance fully focused within.
The result is pure bliss and lightness that lasts for hours after Conscious Dancing. This direct experience is the proof that we don't require any external substances in order to attain bliss, which truly comes from within.
Conscious Dancing is also thrilling, deeply touching and lots of fun. Not to be missed!
For more info about these processes, visit: 
https://devimohan.com/live-group-processes/
Energy exchange for this one day program is 40€.
Please note that you can join for one or both the sessions. For attending only one of the two sessions, the price will be 25€.
On Sunday, 9 October
.
Power of Purity
.
We'll start the day with the signature meditation by Mohanji, Devi's beloved spiritual guide and husband: Power of Purity Meditation is a special guided gratitude meditation- the very first meditation that Mohanji received from the higher realms of consciousness in 2007.
It has a powerful effect of opening the heart and uhooking from emotion-based karmic blockages from the past through gratitude and forgiveness. It acts as a powerful inner bath that results in tangible ligtness and taste of Divine Grace that is indescribable. It is also excellent for healing relationships and shifting into the vibration of gratitude.
During this meditation, all participants will receive a blissful Mohanji Energy Transfer through Devi. This energy transfer is received through forehead and crown chakra. That pure, loving, warm energy significantly deepens the meditative state and the overall cleansing effect. 
Energy exchange – free donation
Mai-Tri Method Session 1 to 1
On Sunday, Devi will be available for a limited number of individual Mai-Tri sessions which need to be reserved in advance.
Mai-Tri is a deep cleansing and harmonising method which helps remove deep-seated subconscious blockages, resulting in the blissful feeling of lightness, balance and overall well-being. What is specific to the Mai-Tri method is the ability to reach the subtlest layers of our existence – the causal body (Karana Sarira) – where seeds of karmic imprints are stored.
With the empowerment from Mohanji, Mai-Tri practitioners can help release even the most deeply ingrained impressions. Mai-Tri brings about self-healing and restoration of inner balance, while not interfering with the destiny aspect of one's karma.
Energy exchange: 50% of donation for Mai-Tri goes to charity. Total amount is 50+50 euro.
Devi is one of the first, most senior practitioners of Mai-Tri Method.  To book a 1 on 1 Mai-Tri session with Devi, please write to vesna.pavlov@gmail.com
If demand is too great on 9 Oct, distant Mai-Tri sessions for another day can also be booked via:  
www.devimohan.com/1-to-1-sessions/