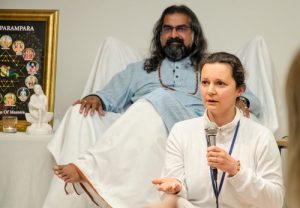 At the entrance to the dark forest, although Devi warned us in advance that we could experience fear during this part of AYN inner journey, I was in peace and ready to face anything that comes my way. While walking through that super dense forest we should have been in the dark, but my body glittered and so my inner light beautifully paved the way. When we reached the darkest part of the forest, the point of facing a deformed, scary creature representing our body of pain, I did not feel any fear or disgust towards her. She was a girl, in horror, dirty and blind, because she was in the dark all the time. I hugged her and kept apologizing that it took me so long to reach out to her. I told her that I loved her and that everything is all right now. In that embrace, she melted into me, into my light. There she was safe and we proceeded together out of the forest. With every step towards the exit from the dark forest, the rotten leaves and dirt was falling off of her, and the process of her healing began. Although from the inside I was in peace, in reality, I was in tears, affected by the grace of Tradition which helped me heal an old and deep trauma.
On the way out of the forest, Mohanji was waiting for me and led me further to the Teachers. I bowed down to all the teachers of Tradition and thanked them for their leadership through all my lives so far, offering each of them a beautiful big flower.
Soon I came to the Divine Mother. At that moment, suddenly my biological mother appeared next to me. She was in great pain, curled in a 'child pose' and could not stand up on her feet. I picked her up and held her in my arms as a baby so that we could bow down and surrender to the Divine Mother together. The next thing I know what that Divine Mother was releasing both of us from dark karmic threads. This was very intense and I couldn't hold back the tears of deep affection. While a part of me was calm and aware that I was in the process of Yoga Nidra's technique, deep emotions of sadness, feelings of abandonment, helplessness and hopelessness were gushing through me in full force.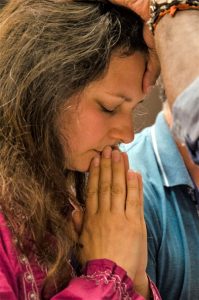 Even though the Awakening Yoga Nidra had ended, I was still in a process of deep cleansing and simply couldn't stop crying. I bowed down in front of the picture of Guru Parampara feeling grateful for the cleansing process. Everyone was already out of the hall for the breakfast while I was unsuccessfully trying to stop crying. In the state of the 'silent witness', I was aware that it was time to go to breakfast and check-out of the hotel, but the cleansing process that was still happening through me simply wouldn't finish. Devi was still in the hall and I instinctively got up and went to her for a hug. In her warm embrace, I once again experienced the Love and Blessing of the Divine Mother and my grief and crying became even more intense. My body was trembling and I could hear my crying sounding different than usual. It was then that I realized that my crying was identical to the way in which my mother cries. It was then that I understood that it was her karma that was being cleansed. The heavy emotional burden that she had been carrying since she was a little girl, when she lost her mother due to a serious illness, was now being removed. Devi still held me and told me that it's OK, that I am going through a strong karmic release process. I could hardly pull myself together to tell her what I was going through. This experience helped me to get to know my mother in a whole new way and to feel more connected with her.
I thank Tradition, Mohanji and Devi for the grace that was poured over me to help me go through this deep experience of deep cleansing of the ancestral karma.