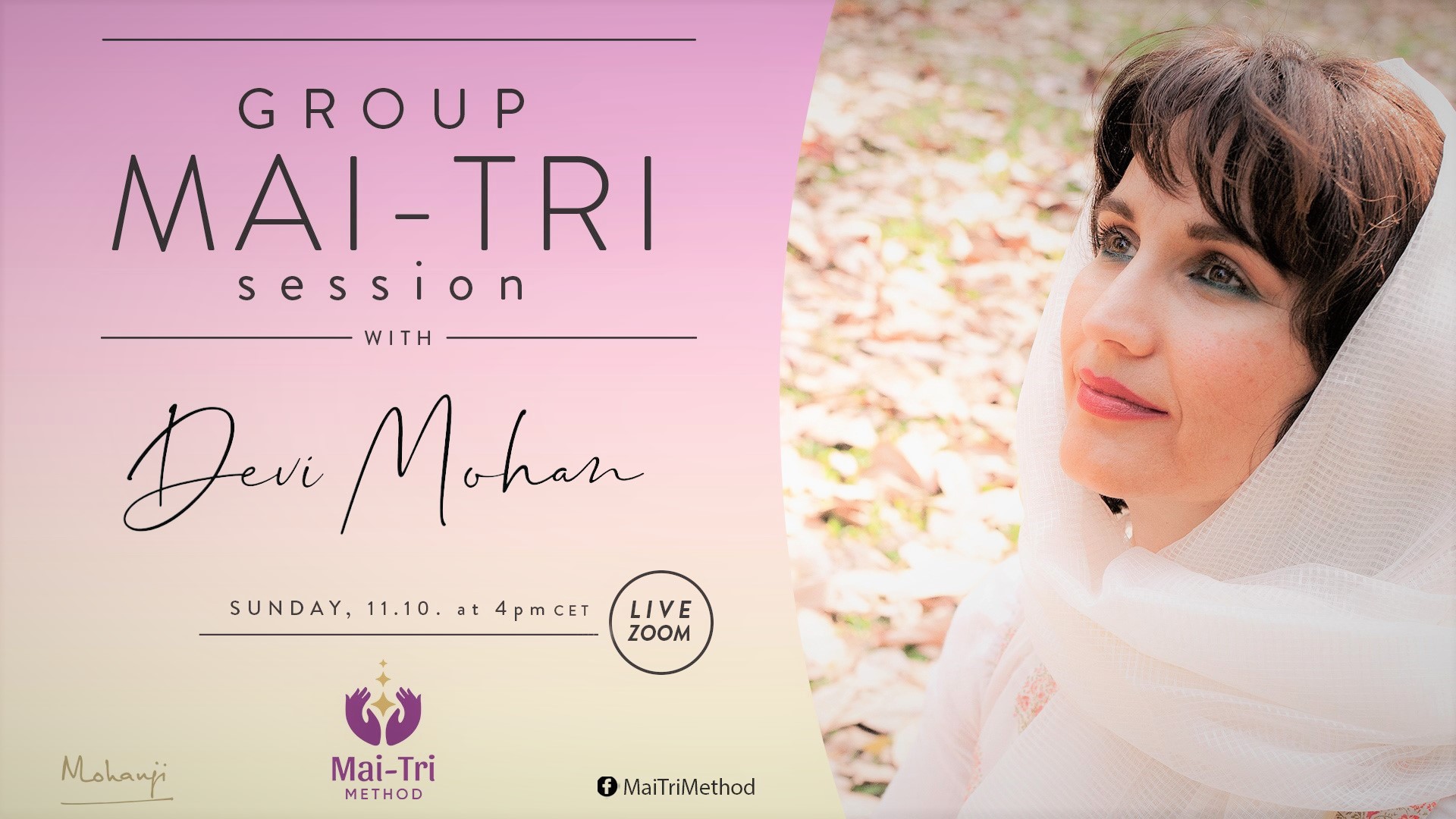 Group Mai-Tri Session with Devi Mohan – via Zoom
Welcome to a deep process of inner cleansing and balancing leading to self-healing. In this process you will be guided to dig deep and address the inner 'body of pain', also referred to as the inner shadow in order to then soar high into gratitude, surrender and higher vibration that allows self-healing at all levels.
Through the Group Mai-Tri session (90 min long), you will have the chance to remove a lot of inner weight which is difficult to access from the level of conscious mind and sheer willpower.
The main part of Group Mai-Tri is elevation of one's frequency through gratitude and connection with the higher consciousness.
To find out more about Mai-Tri Method, please visit: www.mohanji.org/mai-tri/
You are welcome to join Devi Mohan in this deep process via Zoom. Beautiful group energy adds to the intensity of this process which, aside from being profound and transformative in nature, is also completely safe as it is done in full connection with Mohanji's consciousness, through Devi Mohan as the instrument of that Grace. Energy effect can be felt for hours afterwards and various positive changes in life are witnessed very soon.
Time: 11 October 2020 at 4pm CET (7.30pm IST) – 6pm CET
Program flow:
4 – 4.15 pm CET – Introduction
4.15 – 5.45 pm – Group Mai-Tri session
5.45 – 6pm – Experience sharing and additional clarifications
Zoom link will be shared with you by email after donation has been paid via PayPal, on the same email ID used for PayPal.
Energy Exchange: In consideration of the financial constraints due to Covid-19 challenges, there are two options of payment for the Group Mai-Tri session:
the actual amount of $40 (or 35 euro), or
a reduced price of $20 (17 euro) only for students, people with financial constraints/reduced income. Kindly make the choice in line with your conscience and in honor of the energy laws.
Payments can be made via PayPal to the following account: www.paypal.me/DeviMohanOfficial/
(If a direct bank payment is preferred, please send email to devi@mohanji.org).
Please note that as per the standard rule of Mai-Tri Method, 50% of the total funds received will be used for charitable purposes, in specific for feeding of the needy.
For all additional information, please contact devi@mohanji.org
#Compassionduringcorona
#Meditation
#Yoga
#Mohanji
#spiritualliving